Faire carrière chez Hesnault
HESNAULT's strength is our people
The strength of a group with a family spirit
Are you interested in joining a people-friendly company? In pursuing your career in logistics, transit, customs and more?
The HESNAULT Group is a well-known multi-site company in the logistics and international transport market that has enjoyed strong growth in recent years. This is in part thanks to our staff, who have contributed the necessary strength to this remarkable success story.
At HESNAULT, we've kept our 'family' spirit alive and well, combining the agility of a start-up with the solid footing of a major SME.
This means that we can provide our employees with all that a mature company has to offer alongside the work methods and freedoms of action and expression that a young company enjoys.
Professional development is central to our HR policy
Join a proactive, efficient, dynamic and passionate team and embrace our values of excellence and strongly client-focused service.
Transparency, success and learning are at the heart of HESNAULT's HR policy.
Accordingly, we've spent years enhancing the skills of each of our employees and supporting their career development with an ambitious skills development plan.
We strive to ensure that our employees flourish and grow professionally, which is vital to the company's performance.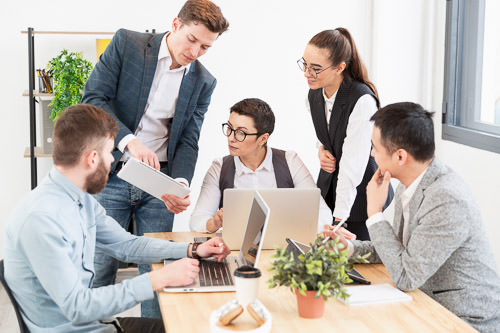 Égalité Femmes – Hommes : 85/100
Conformément à la loi N°2018-771 pour la liberté de choisir son avenir professionnel promulguée le 5 septembre 2018, HESNAULT obtient 85/100 en index de l'égalité femmes-hommes 2023 au titre de 2022 permettant de mesurer les éventuels écarts de salaire entre les femmes et les hommes.
Women in Management and Upper Management positions, comparable salaries, merit raises, promotions, careers: this is all part of our reality at HESNAULT.
At HESNAULT, each person actively participates in the life and success of the Group: in their daily work, their appetite for growth and their love of challenges.
Equip yourself with what you need to succeed
Founded in 1962 by Pierre Hesnault, the company focuses on forwarding and managing the international transport of goods, serving exporters and importers from around the world.
95% of HESNAULT's operations are concentrated in the Pacific zone, the Indian Ocean and Africa.
Our teams of experts assist many companies as they embark on their import/export activities, as well as helping individuals with their international transport needs.
Numbering some 300 employees around the world, the HESNAULT group has enjoyed a renewed and extraordinary energy, bolstered by excellent financial performance in recent years.
Are you up for the adventure?
HESNAULT is now a major player in a rapidly changing sector, with ambitions to become one of the top logistics providers.
Spurred on by the government's plans to establish France as a strategic logistical hub, HESNAULT intends to share in this new dynamic in the coming years.
With this in mind and considering our current growth, we're seeking experts to strengthen our teams.
Forwarding agents specialising in sea and air transport
Operations officers
Customs brokers
International Sea and Air business executives
Si aucune offre ne correspond à votre recherche, vous pouvez déposer une "candidature spontanée".
Rendez-vous sur cette page pour nous envoyer votre candidature spontanée.
Our process is key to ensuring that we recruit our future talent meaningfully and effectively.
We know that pairing the right candidates with the right jobs helps us build thriving, united and more productive teams!
As a result, our hiring process involves several steps, from shortlisting by the HR manager to job interviews in collaboration with the operations managers to induction once hired.
Our processes combine a technical perspective with an HR approach, enabling us to select candidates with considerable potential and who reflect our values.
Chez HESNAULT, nous misons avant tout sur l'humain.
Alors rejoignez-nous !