Hesnault, Your Authorised Customs Broker
Any time you trade goods – import or export – with countries outside the European Union (EU), a customs declaration must be made.
The form it takes and its content are defined by the Union Customs Code (UCC) and the latter's implementation provisions.
All incoming and outgoing goods and merchandise crossing through mainland France are subject to customs formalities.
At the international level, regulations differ from one country and continent to the next.
Drawing on our expertise in logistics and air and sea freight, including all international import and export activities, for goods and especially for medical and food products, the HESNAULT group will assist you through every step of your customs procedures.
Our HESNAULT Customs experts ensure that you receive personalised support to optimise, prepare and simplify all your customs clearance and exemption formalities.
Specialists in customs transit duties at our agencies in the Paris region, Roissy and Le Havre are ready to handle any request you may have.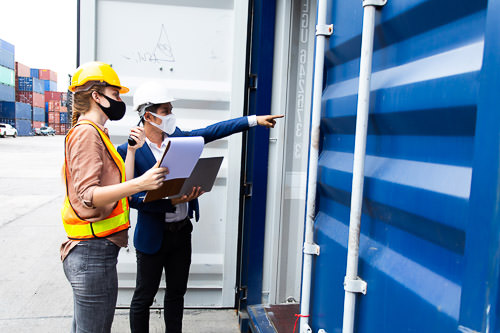 Advising on ways to optimise your customs formalities
Estimating customs duties
Writing your customs procedures
Customs clearance operations: import/export declarations, forwarding, preparation of TIR and ATA carnets
Providing support for tariff classification and identification of origins
Gathering regulatory documents
Ensuring conformity of your applications
Monitoring regulations
Authorised Customs Broker
Being an authorised customs agent or broker means managing customs formalities on behalf of a third party.
The Directorate General of Customs and Excise issues registrations to customs brokers.
Customs formalities can be quite complex and time-consuming.
For this reason, international trade professionals often seek the services of authorised customs brokers.
As a major player in logistics and a freight forwarder in customs, the HESNAULT Group is naturally an Authorised Customs Broker and Authorised Economic Operator (AEO).
HESNAULT's teams are experts in customs procedures and are on hand to guide you through all things customs.
With our specific qualifications, we can handle all your needs in terms of customs formalities, whether importing or exporting goods.
Our experts guarantee all customs procedures will be reliable, in order to fully comply with regulations.
Each and every day, we devise, fulfil and coordinate all customs services on behalf of our clients to ensure the smooth flow of goods worldwide.
Certified Authorised Economic Operator (AEO)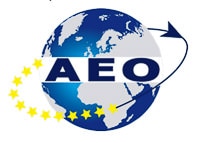 AEO certification is issued by the Customs Administration.
It is a trusted European customs label that enjoys international recognition.
This certification makes it possible for customs services to identify reliable and competent companies to enable secure and simplified trade.
The HESNAULT Group has been proudly AEO-certified since 2011, and this indisputable guarantee of quality allows us, as an Authorised Economic Operator, to guarantee efficient customs procedures for our importer and exporter clients.
Please feel free to contact us for more information on our customs expertise.
Personalised Customs Services
HESNAULT's services ensure that you receive personalised support to optimise, prepare and simplify all your customs formalities.
As a major player in the global supply chain, HESNAULT is an approved customs broker for all import and export declarations.
We provide our Importer and Exporter clients with our expertise in customs formalities, offering services such as:
Answering regulatory questions;
Helping to ensure the conformity of legal documents;
Drawing up customs formalities when delegated to do so;
Undertaking customs clearance operations (directly or indirectly);
Anticipating any difficulties;
Facilitating the import and export of goods.
This means HESNAULT can provide a full range of logistics and transport services related to importing and exporting goods:
Chartering goods by sea, by air or by multimodal transport;
Arranging logistics for transporting goods;
Using appropriate services to ensure legal transport;
Managing formalities and handling operations;
Preparing and receiving the necessary documents - declaration and presentation of goods;
As well as any additional advice our clients may need.
Current Events in Customs
Supporting our clients as they pursue their international growth is the HESNAULT Group's raison d'être.
HESNAULT, Insurance for Your Goods
From consulting to implementation, our Insurance teams contribute all their expertise to provide you with the service from the time your goods are dispatched until they reach their intended destination, according to the required compensation options. Whether insurance for air, sea or ground transport of your goods, and even for their storage, HESNAULT offers you the best cover on the market, backed by our unfailing insurance partners.
According to the type of merchandise, its packaging, the means of transport and the desired cover, our experts offer you a tailor-made insurance solution with cover adapted to your requirements and constraints.
HESNAULT, Information Systems
Our tools connect to your information systems and can communicate to provide you with real-time tracking for your goods, centralisation of all your documents, KPI reports and, if required, published item cost prices.
IS services:
Real-time tracking
WMS – Warehouse Management System
Gestion Entrepôt
EDI interface – Electronic Data Interchange
EDM digitisation – Electronic Document Management
Gestion Electronique des Documents
KPI reports and analysis tools
Item cost price publishing
The HESNAULT group has invested in all the latest technological resources for ever-increasing traceability and information, and we work continuously on IS development in order to stay at the forefront of progress.
For many years, HESNAULT has been offering an exclusive service: sourcing. This involves matching Clients, Suppliers and Products. It means that our dedicated service makes importing/exporting easier for you, as you benefit from our expertise and our database of contacts. Thanks to our international trade relations, we're in a position to offer you a Sourcing service that is perfectly adapted to your needs.
Sourcing service:
Search for Suppliers
Clients
Products
Matchmaking