Goods transport expert for imports and exports
HESNAULT has been the preferred partner of importers and exporters the world over for nearly 60 years.
Our job: preparing, coordinating, optimising, managing freight and monitoring the flow of international goods, for imports and exports alike.
HESNAULT's Supply Chain expertise is recognised by the leaders in the automotive industry, agri-food, aeronautics, IT equipment, telecommunications, energy, large and medium-scale retailing and more.
Supply chain management is a major concern for importers and exporters alike.
At HESNAULT, we put our experience and extensive expertise to work for you to help you grow internationally.
International transport logistics available for all your market opening needs, with the help of our qualified and dedicated teams for:
Handling your import, export or international trade transactions
Organising the transport of goods from your shops/warehouses to storage or transit locations, through our hauliers and partners
Booking sea, air, ground or multimodal freight transport for your goods through our partnerships with leading companies
Verifying security for the transport of your goods
Drawing up transit and import/export documents, customs formalities and regulatory authorisations (hazardous materials declaration, free circulation certificate, etc.)
Managing stock
Coordinating and ensuring follow-up
Checking duties against the Incoterms
Ensuring costs and deadlines are met
Take HESNAULT's logistics expertise and turn it into a genuine competitive advantage to control your costs and productivity, streamline your inventory, manage your transport and thereby improve your flexibility.
Are you in need of a Pharma logistics partner for international forwarding and transport of your healthcare products?
Pharmaceuticals, health and cosmetics
HESNAULT can provide you with all the necessary expertise to guarantee the transport of your medical, pharmaceutical and dermo-cosmetic products, which are subject to some of the most exacting requirements as well as compliance with strict health and safety rules. In fact, both transport time and temperature control are among the most essential criteria for ensuring the integrity of these goods.
This customs bonded cross docking warehouse is run by our chemist in accordance with best practices for handling, storage and distribution.
This includes, for example:
Heightened inspection of incoming goods
Regular monitoring of temperature and humidity levels using sensors
Protection from the effects of light and pests
Proper handling, storage and delivery procedures
Continuous training of on-site staff by our chemist
Are you looking for a partner to import/export your merchandise for large and medium-scale retail?
Large and medium-scale retail
With our warehouses and those of our network of agents and local correspondents located as close as possible to ports and airports around the world, we can provide you with a complete and high-quality 'Project' mode offer:
Logistics & storage: receiving, storage, picking, volume optimisation
Cold storage, hazardous materials, valuable products, etc.
Sea freight
Full Container Load (FCL) or Less than Container Load (LCL)
Framework agreements with major shipowners
Optimised & adapted transit times
Air freight • Dedicated HESNAULT allotments
Affreightment, charters
Multimodal transport
Door-to-door solution with end-to-end visibility
Transfer without breaking bulk
Optimisation of costs and lead times
Guaranteed security
Certified customs broker
We have selected the best sea & air freight companies when it comes to chartering your containers. We opt to work with companies that offer reliable timetables in order to control transit times within France and thereby optimise your logistics.
For your import flows, HESNAULT places a team of specialised and dedicated logisticians at your disposal. What makes our import service so successful is the foresight that enables us to meet 100% of your needs while keeping costs under control.
With over 50 years under our belt, HESNAULT has forged strong relationships with all shipowners. It has always been our strategy to load with all the existing companies on the market, and we have the ability to offer our clients all options for procurement by ship. We choose the company according to the actual needs of our clients at the time and the value for money offered by the destination company.
We offer:
Personalised full containers: from our logistics hubs, each client has a dedicated space for receiving, storing and optimising the stuffing of their containers.
Sea Consolidation (LCL/LCL): weekly departures to all your destinations, making it possible to load urgent remaining goods due to lack of sufficient quantities to fill a full dedicated container. The freight ton rate is calculated according to the contract rate, meaning you won't be penalised in any way.
Full containers (FCL/FCL): for 'ex works', we can adapt to any of your suppliers' geographical and logistical constraints, offering you the best value in terms of transit time and price.
Like sea transport, the HESNAULT Group also enjoys advantages in air transport:
Close ties with more than 5 major airlines in Roissy, enabling us to ensure seamless capacity access
Yearly allotments either in terms of pallets or bulk deliveries across all available flights
Several years of experience in the management of pharmaceutical products (room temperature, controlled temperature, shelf life, psychotropic drugs, etc.)
'COHESION' status for some destinations, giving you priority capacity and cargo access with AIR FRANCE
Our responsiveness also means that we can offer our clients an emergency dispatch procedure.
Do you need a service provider experienced in transport and handling for the Construction Industry?
Industry and Construction
HESNAULT offers specialised services and transport solutions designed for the construction and industry sectors, in France and abroad, to manage the logistics of transporting your machinery to your worksites or delivering parts that are critical to keeping your production lines supplied.
When it comes to handling and transporting machinery or infrastructure components with non-standard dimensions, HESNAULT relies on recognised Exceptional Consignment partners to offer you fully-controlled solutions with the HESNAULT service guarantee:
A team of experts dedicated to your project
An in-depth assessment of transport solutions and routes
Effective project management and monitoring
Pick-up and transport of all your public works machinery (construction, quarries, mining, etc.): excavators, cranes, bulldozers, graders, dumpers, etc.
Our HESNAULT partners have all the necessary equipment suited to any terrain and each worksite to fulfil all types of public works transport requests.
HESNAULT's main advantage when it comes to international transport for the industrial sector is our flexibility. Our experts put their extensive knowledge, their attentiveness, their advice and their recommendations to work to determine the best type of freight and logistics solutions to be implemented, all based on your needs.
Fully aware that a factory cannot be allowed to stop producing, we can guarantee delivery times to meet all your requests for transporting raw materials, industrial parts and industrial equipment.
Would you like to transport and/or store your goods and food products – for import or export – under strict and regulated protocols?
Agri-Food and Perishables
HESNAULT guarantees you a 100% reliable service designed for agri-food production, making sure that your food products are transported in accordance with the cold chain using quality Reefer containers and suitable cold storage rooms.
After all, these temperature-sensitive foods require the utmost care. HESNAULT therefore follows the principles of the HACCP system in order to guarantee you transport and storage conditions that are right for your products according to applicable standards.
The shipping process must be continuously and completely managed, specifically involving:
Thorough checks on receipt of goods
Regular quality control and verification of temperature and humidity levels
Digitised, online traceability
Guaranteed security
Steady procurement
Proper handling, storage and delivery processes for food products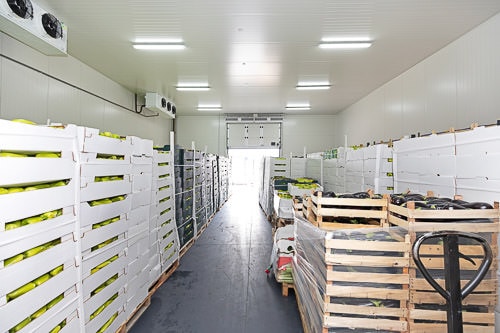 Our processes are adaptable and approved for fresh or frozen products, processed industrial products, agricultural harvests and wines and spirits, whether dry, bulk or temperature-controlled.
Besoin de transporter du matériel spécifique pour vos évènements à l'étranger ?
HESNAULT will take care of transporting your equipment and event goods abroad on your behalf, which means 100% adapted and personalised solutions.
Whatever your event:
International Trade Fairs & Exhibitions: POS advertising, stands, demo products, etc.
Concerts, Music and Theatre Festivals: sets, instruments, costumes, technical machinery, etc.
Sporting Events: competition vehicles, cars, motorcycles, etc.
Véhicules de compétition, auto, moto…
Exhibitions, Galleries and Museums: Works of art, sculptures, paintings, etc.
To make sure your event runs smoothly and without a hitch, we adapt to fit your expectations. Depending on the delivery times and the type of goods you want to transport, we offer you a secure and guaranteed turnkey service.
Backed by our Experts, HESNAULT ensures your fragile goods (paintings, sculptures, statues, etc.) are protected throughout the duration of our handling of your goods. Aware of the major stakes involved in the transport of event items, we accord the utmost importance to punctuality and security.
Besoin de transporter du matériel spécifique pour vos évènements à l'étranger ?
Industrial Transfer and Factory Relocation
Relocating a production unit and handling the transfer of your industrial machinery and equipment is a delicate operation that calls for precision, organisation and foresight.
HESNAULT can provide you with a 100% customised, secure and turnkey CARGO PROJECT service in France and abroad:
Factory transfer
Workshop relocation
Administrative relocation
Transfer of stock
Multiple sites
Aware of the major stakes involved in a factory relocation project, HESNAULT places a dedicated team of experts at your service to implement an operational strategy that aligns with your expectations and is 100% controlled.
HESNAULT is backed by more than 60 years of expertise and experience in international logistics and transport projects.
Our ability to organise, our flexibility and our technical know-how are your guarantee that we can handle a key project for the continuity and expansion of your business and production.
Assistance with defining your needs and feasibility
Preparation and identification of your equipment
Full project management
Activity monitoring and reporting
Handling, transfer, storage (if needed) and transport
Optimisation of and adherence to schedules
Reliable transport and supply chain
Flexible scheduling
Is your company seeking a partner for transporting automotive or aeronautical equipment?
Automotive and aeronautical transport
HESNAULT, together with our international network, takes care of transporting:
All types of vehicles (cars, aeroplanes, motorcycles, tractors, lorries, etc.)
Spare parts
Engines
Any other type of automotive or aeronautical equipment
Industrialists, Manufacturers, Equipment Suppliers, Dealers and Private Individuals trust our HESNAULT Transport experts for all destinations.
Mindful of the commercial challenges inherent to the automotive and aeronautics industries, the supply chain must be reliable, secure and controlled in order to improve flexibility, reduce costs and shorten lead times.
Effective solutions combining control and secure management of all your goods regardless of their size and weight.
Multiple logistics resources are deployed, all adapted to the type of merchandise, such as using RoRo vessels offering excellent reliability, containers suitable for this particular type of transport (Flat Rack, for example) and customised chocking solutions (ropes + batten, wood, ratchet straps, etc.).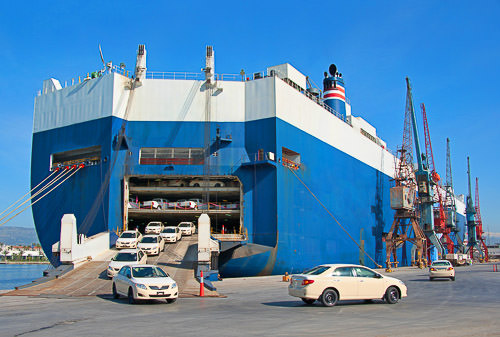 Are you looking to send construction equipment, semi-trailers, agricultural machinery or non-containerisable industrial goods?
Transporting heavy cargo of any size (so-called BREAK BULK) involves special and extensive logistical resources. HESNAULT has considerable experience in transporting any type of gauge. Whatever the dimensions and/or weight of your goods, we have the logistics solutions to offer you the most suitable arrangements and a turnkey solution.
When it comes to transporting wheeled vehicles and construction equipment, we have agreements in place with ship owners for loading on roll on-roll off (Ro-Ro) vessels, which are geared to the specific needs of automotive, industrial, agricultural, aeronautical and construction manufacture.
For more specific solutions, such as transporting privately-owned or dealership vehicles, we also provide an autotainer service.
We also offer door-to-door service without breaking bulk.
Our goals for this Break Bulk Cargo:
Secure freight
Controlled transport, shipping and storage costs
Management of administrative, regulatory and customs formalities
These special consignments are governed by very specific regulations, such as requiring authorisation for road transport in special convoys, with administrative formalities that differ from one country to the next.
Do you have dangerous goods (TDG) that need to be safely imported or exported in compliance with regulations?
The transport of dangerous goods (TDG) entails stringent regulations that must be strictly respected to ensure that your products travel in complete safety from point A to point B. HESNAULT has logistical tools, infrastructures and teams of authorised and risk-trained experts to manage and transport these specific goods.
Aerosols
Cosmetics (perfumes, hairspray, etc.)
Paint
Alcohol
Household cleaning supplies
Pharmaceutical products
Insecticides
Ammunition
Drones
Fire extinguishers
Lithium batteries
Blowtorches, various lighters
Magnetised material (magnets)
Some toys
Explosion
Gaseous risk
Flammability
Toxicity
Burns
Radioactivity
The Transport of Dangerous Goods is governed by various international regulations (RID, ADR, ADN, Technical Instructions for the Safe Transport of Dangerous Goods) relating to packaging, labelling, classification and documents. All this involves sending detailed information in advance regarding the properties of the goods as well as a suitable and secure storage location. HESNAULT is your specialised partner for transporting and handling your dangerous goods.